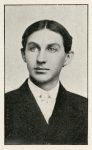 Not long ago I happened upon something of great interest to me as an RPI archivist – a photograph album documenting Rensselaer and its vicinity in the early twentieth century.  This is the story of how we acquired not one but seven photo albums compiled by Mr. Louis Blackmer Puffer, RPI Class of 1909.
The Institute Archives has a standing search in ebay for things related to Rensselaer.  Every day we receive email notifications about what's new.  There's usually a bunch of stuff we already own – old yearbooks, some Institute publications, a postcard or two, etc.  At the end of the list there's a message that says "View all results."  I rarely look there because it's mostly stuff that's been posted a thousand times and I've already determined we don't need any of it.  But one day in September I followed the link, just to see how much additional material was available.  Was I in for a surprise!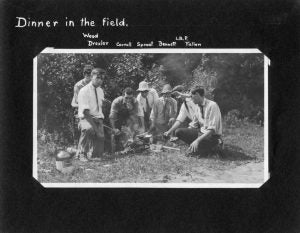 As I pored over the usual array of items, one in particular stood out – an album containing photos of a 1911 student survey in Warrensburg, New York.  At that time  students were required to go on expeditions to develop their surveying skills.  The photos depict students posing with rods and transits and other paraphernalia as well as using the equipment, goofing off, and relaxing in their spare time.  Best of all, each image is neatly labeled, often including names or initials of people in the photos.
While the album was a little more costly than the things I usually buy, my colleagues and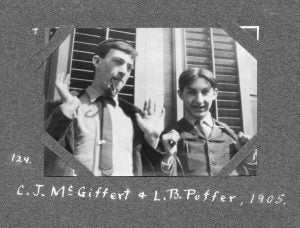 I wanted this unique treasure for our collection.  In addition, it turned out that the seller had several more Puffer items.  I quickly purchased the one I'd seen on ebay and began negotiating for the sale of additional materials.  In the meantime, I did a little research on the student photographer.  This led to a couple more surprises.
I discovered Puffer's photographs were sold off to different people after his death, including a batch that ended up at the Vermont Historical Society (VHS).  The silver lining is that a description and inventory of the VHS collection is available online.  Thanks to the biographical information provided in their finding aid I now know more about this son of old Rensselaer.  It turns out that in addition to his photography avocation he was an avid outdoorsman, which helps explain the many outdoor scenes throughout his albums.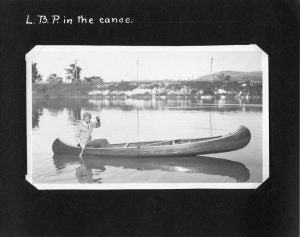 Additionally, Louis Puffer was not just a student here; soon after graduation he became a lecturer in mathematics at his alma mater.  In 1911 he was the faculty member in charge of the Warrensburg survey expedition, supervising a cadre of students only a couple of years younger than himself.  Puffer later took a teaching position at the University of Vermont, taking him back to the state where he grew up.
I'm happy to report that the Institute Archives now has Puffer photographs dating from 1905 to 1914 along with two undated albums.  They document student life in ways we've rarely seen, including Troy from the perspective of an RPI student/recent alumnus.  So stay tuned - I'll share more of Puffer's images in future posts!