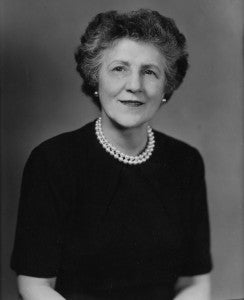 A recent inquiry by a member of the class of 1953 brought to our attention a former Rensselaer staff member who was a popular figure on campus from the late 1940's to the early 1960's. This person was Helen Liddle Warren, Rensselaer's first Director of Social Activities. Mrs. Warren was hired by President Livingston Houston in 1947 when there was little in the way of organized campus social activity. Her responsibilities included planning and coordinating an annual calendar of social events ranging from dances, pep rallies, bridge tournaments, and concerts to coffee hours and "smokers" (an informal social gathering). From her office in the Rensselaer Union Clubhouse (present day Lally Hall) she also dispensed advice and instruction on social etiquette to the student body as well as assistance with an assortment of perplexing problems. As she explained in the Rensselaer Handbook for 1952-1953, 
"I am only too happy to help you with a difficult letter, help choose a wedding present, sew on a button or get you a blind date."
She delivered two annual lectures on social etiquette to students in the Introduction to Engineering course required of freshmen. Topics included making introductions, sending and replying to invitations, and proper use of silverware. She also compiled a booklet on etiquette for distribution to freshmen. We have not been able to locate a copy, but a 1955 Rensselaer Alumni News article on Mrs. Warren contains several excerpts. Our favorite: "Don't take such large mouthfuls that you resemble a chipmunk."
Helen Liddle Warren was born in 1896 in Hoosick Falls, NY. After completing high school she trained and worked as a nurse in New York City. She became a nursing supervisor at Troy's Samaritan Hospital in 1921 and married Walter P. Warren, Jr. in 1922. She was the director of the Day Student House at Russell Sage College from 1934-1941 and received a Bachelor of Arts degree from Sage in 1941.  She was an administrator at Samaritan Hospital from 1941 until she joined the Rensselaer staff in 1947. She retired as Director of Social Activities in 1962 and died in 1980.
For more information on Mrs. Warren's activities at RPI see: "She Advises Hundreds of Men", Rensselaer Alumni News, September 1955.