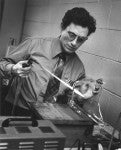 When we provide titles or descriptions to images in our database, they're usually very basic and point out identifiable characteristics of the photo so we can easily retrieve it for patrons or internal use. For example, the description for this image might be "Man using torch in lab."
Since this photo includes an element of multitasking that we just don't see anymore, I thought our audience would find humor in providing their own title or caption to the mysterious image.
If you know who this is, and where they are, please let us know. More importantly, have some fun, give us a title and caption for the image too!!