This photograph has been kicking around my desk for some time. The house looked familiar, but I couldn't quite place it. I showed it to my colleagues and they also remembered seeing it before — but where?
Recently, I was searching for some information in issues of The Polytechnic from 1931, and this mystery photograph popped out at me. Delta Sigma Lambda, a newly-formed fraternity at RPI, had just moved into this house...on the corner of Hoosick and Fifteeth St. Ah, yes! Now I remember it! Alas, the house no longer exists. It was torn down a few years ago.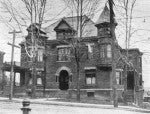 Do you remember this landmark?