Hey Readers! Welcome to RPI HISTORY REVEALED, our new blog platform. We were a bit nervous about this transition, asking ourselves "will we lose them," "will they stay tuned?"
Please remember, all of the content is the same. Anything you searched or found in the old blog over the years exists here (exact same posts and comments), things just look different.
I thought we'd begin our new blog with an RPI History Revealed Mystery Image tradition. We have this wonderful box of photographs labelled "laboratory."  I grabbed this box a few weeks ago in anticipation of finding some really great header images to incorporate into the new blog when I found one in particular that I just loved.
What is happening in this photograph? Which department would this activity have taken place in? Is it an experiment? I see a guy, an image of a gal, a black tube, a piece of plastic taped onto the black tube, a cement wall, a cardboard box and an outlet.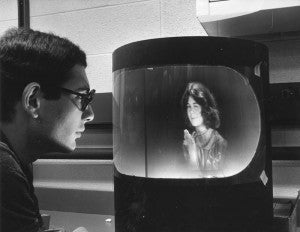 Can anyone tell us what technology (or forthcoming technology) this is!! And of course can anyone identify these individuals?