The Hockey Line is a long-standing (no pun intended) tradition at RPI.  When and why did it start?  Before 1972, student tickets rotated through sections on the North and West sides during the season so that everyone had a chance to sit in the best seats on the North side.  Brace poles, in place until 1983, obstructed the view from some sections.  In 1972, about 900 seats in sections H and K were sold on a first come, first served basis.  The remaining sections continued to rotate.  Students lined up in the Rathskellar about 12 hours in advance to purchase these tickets.  I suppose you could call this a prequel to the Hockey Line.
Image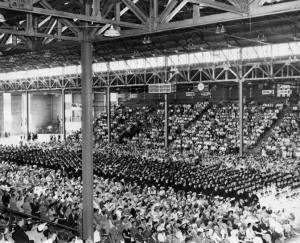 A huge controversy ensued the following year, 1973, when several different season ticket plans were proposed and shot down in one way or another.  A proposal was finally approved by the Student Senate and E-board in late October.  The plan included an "unlimited sale of season tickets in the North Grandstand and the elimination of the rotation system." [see Poly article, left]  This opened up 2100 season seats to students on a first come, first serve basis.  Tickets went on sale at 9 a.m. on October 29th in the Rathskellar.  Students began lining up on October 25th -- waiting in line in the Rath during the day and sleeping outside the Union at night.
Image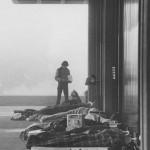 The line was officially moved to the outside of the Union in 1975 and a sign-up sheet was kept by the GM and PU to ensure that groups were maintaining their place in line.  The line could not technically begin until the Student Senate approved the sale date and guidelines, but that didn't stop groups from forming the line earlier and earlier each year.  The competition to be the first in line (and thus start the line) was fierce.  An independent group attempted to start the line early one morning in 1976 and were allegedly attacked by some frat brothers who threw eggs and hosed water at them.  Eventually, rules were instituted to govern the formation of the line, registration of groups, ID requirements, temporary shelters, etc.
Image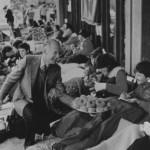 George Low visited the hockey line during his first semester as president in 1976 and in subsequent years he began the practice of serving breakfast to participants.
Memories? Questions? Reactions? -- Leave a comment!!