I've been immersed in the history of campus buildings lately and, being saturated with lots of interesting information, I feel compelled to share some with you! Here is something that  I find quite striking:  at least fifteen buildings on the RPI campus were designed by alumni or their firms. I wonder if any other university can make such a boast? Joseph M. Lawlor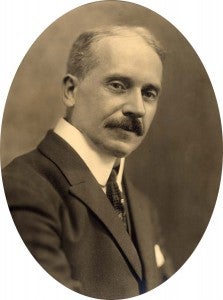 gets the prize for "most favored" architect.  P.C. Ricketts established a relationship with Lawlor and Haase beginning with the construction of Russell Sage Laboratory in 1908. They completed eight more projects, including the entire Quadrangle Dormitory complex. Their last building was, fittingly, the Ricketts Building.
Click on the name of the building to learn more.
Joseph M. Lawlor, Class of 1888
W. G. Wilkins, Class of 1879 - Pittsburgh Building
Frederick M. Cummings, Class of 1886 - Troy Building
Peter Levatich, Class of 1955 - Jonsson Engineering Center
Stephen Voorhees, Hon. D. Eng. 1939 - Science Center
Al Krause, Class of 1952 - Folsom Library
Peter Bohlin, Class of 1958 - Biotech Center
In addition to this list, Charles Blitman, Class of 1914 and Howard Blitman, Class of 1950 were part of the general contracting firm that built the Freshmen Dormitories.  If you know of any others, please share.