Image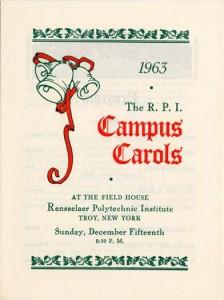 The annual Campus Carols holiday concert was a Rensselaer tradition for many years.  The genesis of the event dates back to 1944 when it was called the "Christmas Candlelight Program."  In early December, the RPI Glee Club led the campus community in the singing of Christmas carols at the RPI Clubhouse.  In 1948, the event was renamed "Campus Carols" and moved to the '87 Gym.
The Houston Field House became the venue in 1951 and the Russell Sage Choir joined the RPI Glee Club and Orchestra for a full evening of musical entertainment.  The event ended with a sing-a-long of well known Christmas songs.  This format continued for more than twenty years.  As far as I can determine, the last Campus Carols concert was held in 1973.  There are programs for almost every year of the Campus Carols in the RPI Glee Club Collection.
If you have any memories of the Campus Carols, please share them by leaving a comment. Happy Holidays!