Image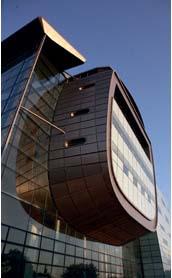 Coming into Troy via Route 7 east down that long slope, one's eyes inevitably scan to the opposite hill where the RPI campus is situated.  The Low Center for Industrial Innovation sits up there at the highest point, but the most prominent building on the hill now is the Experimental Media and Performing Arts Center.  You can't miss it!  I've heard it referred to as an ark, a whale, or that blob with a lot of glass.  Hearing reactions to this huge building protruding from the hillside overlooking Troy makes me wonder what it was like when another monumental building perched near this very same spot.  (Hey, I'm an archivist, I think about these things.)
Troy University opened 150 years ago on September 8, 1858.  A group of Methodists interested in starting a college chose Troy as a location and after enough funds were raised, they purchased property from Jacob Vanderheyden.
The university is on the hill called Mount Ida, overlooking the city.  The view from this site is one of rare beauty and extent.  The center building, built in the quasi-Romanesque style of architecture so popular at that time, was two hundred and fifty feet long by about 55 feet wide and four stories high... The crowning architectural features of the building were four tall spires on the corners of the central portion.  Because of the location of the building, on the crest of the hill, high over the city, these spires could be seen for many miles in every direction and formed a distinctive part of the landscape becoming known as "The Towers of Troy."  [Troy and Rensselaer County, New York: A History, p.304]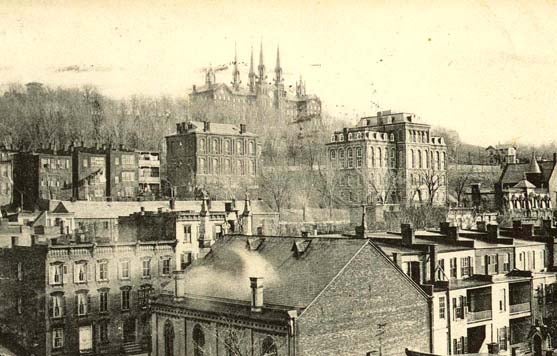 Troy University only lasted a few years, and the building subsequently became a seminary and then a convent. Two of the towers were destroyed by fire in 1917 which somewhat reduced the majesty of the structure.  RPI moved up the hill and populated the hill around it with new brick and sandstone buildings.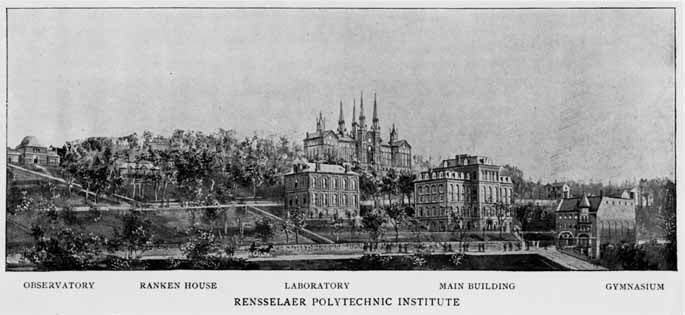 The building was eventually acquired by the Institute in 1958, but renovating the decaying structure was costly so the decision was made to tear it down in 1969. The Folsom Library, though noted for its architecture in 1976, could hardly replace the majesty of the building that once stood in its place.  Now EMPAC, described by The New York Times as "a technological pleasure dome," once again draws attention to this hill over looking Troy.