The  "Engineers" moniker for athletic teams goes back to the 1920s. It was a good idea when the name summed up RPI quite well and an "image" of athletics was unnecessary. Marketing athletics can be tricky and fan support fickle, however, when there is no mascot to relate to. An attempt to fix this problem came about in 1953 when the Student Council announced a mascot contest. The five finalists were:  Bachelors, Scorpions, Falcons, Red Devils and Cardinals. Students voted for their favorite during the Grand Marshal Week elections. The winner? -- Bachelors -- The entry stated that the name implied the B.S. degree and a men's school. A humor magazine of the same name was a popular campus publication at the time. It was a name that "can be easily characterized by a cartoon figure which can be applied to any activity." The Bachelor character was created by Dick Becker, Class of 1954.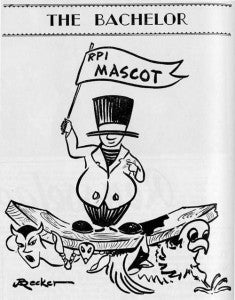 Athletic teams were referred to as the "Bachelors" from 1953 to 1958. 



During the 1958-1959 academic year, the name gradually lost favor to the "Engineers." I have not been able to ascertain exactly why this happened. I wonder if  it had something to do with the fact that five female co-eds entered RPI that year?
It would be great to hear from alumni who remember the Bachelor mascot. Leave a comment! More on RPI Mascots