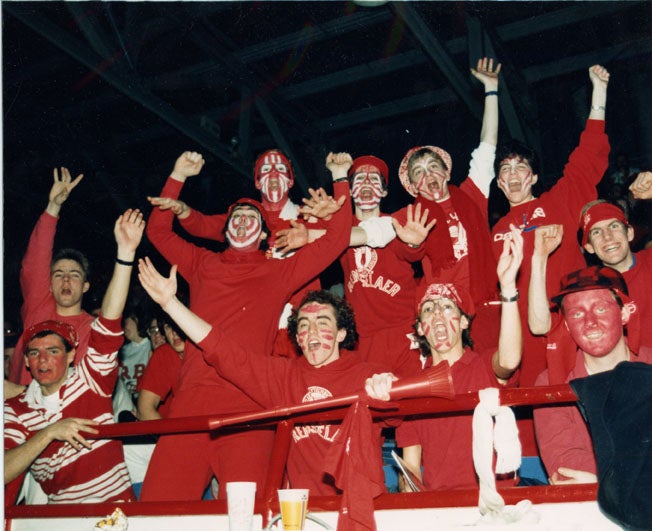 What's big, red, and is celebrated like a hockey version of Mardi Gras? That would be Rensselaer's Big Red Freakout, of course! Started in 1978 as a way to make college hockey unique, the Big Red Freakout was an instant success. Each year, fans come to the rink saturated in Rensselaer's signature cherry red color, ready to cheer on the men's hockey team. The special addition to this night is a commemorative gift, known as a favor, each fan receives as they enter the arena.
The Institute Archives and Special Collections has collected many of these favors over the years, including pennants, pucks, buttons, clothing, banners, pom-poms, and other memorabilia. None, however, is as infamous as the 1987 horn.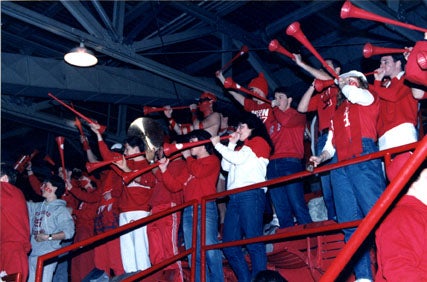 This particular horn was given out to fans during the 1987 Freakout game against Brown, and the noise level it produced was so loud that it was credited as helping Rensselaer snag an 8-3 win over their opponent. The Brown coach was so incensed at the noise that a proposed rule change was brought to the attention of the National Collegiate Athletic Association, which resulted in the NCAA banning noise-makers from Division I hockey. This rule subsequently became known as the "RPI rule."

This year, the Institute Archives is holding an exhibit in the Folsom library, featuring various Freakout favors throughout the decades. On display will be clothing items, cowbells, pennants, pucks, buttons, and much more…including the notorious horn! Pop on over to take a look at the collection, and to celebrate Rensselaer's Big Red Freakout with us. Body paint optional.