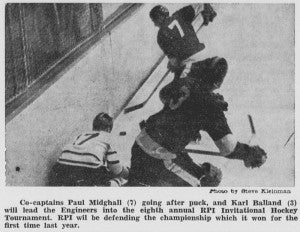 For many years – 60 in fact – the holiday season held a special place in the hearts of devoted RPI hockey fans. Starting in 1951 Rensselaer hosted an annual invitational tournament that brought in teams from all over the United States and Canada. In fact, one team came from as far away as Sweden to compete in the 1980 event!
From the start, the tournament evolved almost continuously. Eight teams competed the first year, which was reduced to four for the next 59 years. Some years it was a round robin format in which each team played the other three; other years the winners of the first two games advanced to a championship while the losers were relegated to a consolation game.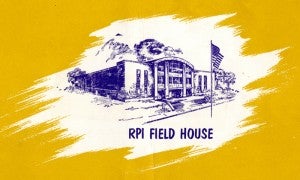 The name changed too, from Invitational to Christmas to Holiday Tournament. The latter was due to the fact that the tourney was occasionally held during the Thanksgiving break. The name also reflected a series of sponsors during the final years of competition.
The tournament programs also went through many transitions. Starting out with very simple graphics, the program covers gradually added artwork, cartoons, photography, and action shots of players. Included below is a sampling of the many designs found in the Institute Archives Sports Collection. From monotone images to bright, glossy covers, they reflect changing trends in graphic design and sports illustration.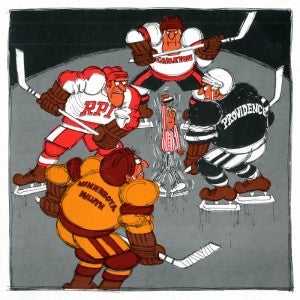 While RPI boasted the oldest college hockey tournament in the U.S. for six decades, over time attendance dwindled, and the last tournament game was played in 2010. The host team finished in first place that year – a bittersweet victory for the record books. During that span Rensselaer came in 1st place 17 times, 2nd place 26 times, 3rd place 11 times, and 4th place 6 times. Not too shabby, although as a hockey fan I wish the tradition were still alive.
It's fun to pore through our Sports Collection, but for those who can't visit the archives there's plenty of good information online. The Athletics web site has tons of stats available, and I also like College Hockey Historical Archives for their well-organized data. In the absence of a holiday tournament, there's always the internet!