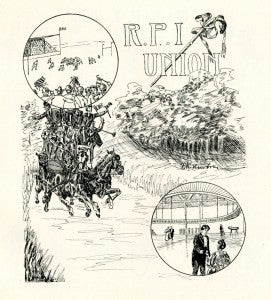 The students formed the R.P.I. Union in the fall of 1890 stemming from a desire to be taken more seriously for their athletic endeavors, to be more competitive with rival colleges, and to create social ties with Troy citizens (The Poly Dec. 20, 1890). At this time, the first President of the Union, W.C.H. Slagle, was elected as well. Though never explicitly mentioned in the historical record, evidence suggests students used their Gymnasium (built in 1887), then located at the foot of the Approach, as a space for union activities such as dances.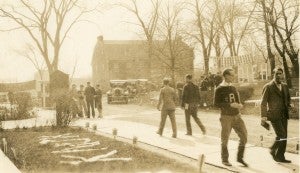 The first official home for the Rensselaer Union was a student clubhouse built in 1908. The Clubhouse was located at the west end of the '86 Field. This new building boasted a lounge for receptions, meetings and dances. It was also equipped with lockers, showers, billiards, toilets, a dining room, and a kitchen. The Union's clubhouse and its surrounding environment were alive with student life and activities, in particular Grand Marshal events, of which the Union was in charge.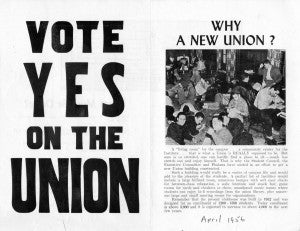 In 1932, a new clubhouse was dedicated and the old one was torn down. The new building offered a lounge on the 1st floor, card and game rooms on the 2nd floor, and a ballroom on the 3rd floor. By the 1950's however, the student body had grown to such an extent the building was overflowing with students vying for space. As early as 1956 students were eager for a new, larger building. They approached Union Director Frank McNeil and asked about the possibility of better accommodations. In 1959 a committee was formed to study the feasibility. For the next five years a series of reports was written to analyze the need for more space. General consensus was that a new building needed to accommodate a plethora of student activities as well as become "the living room of the Institute" – a place for the entire Rensselaer community.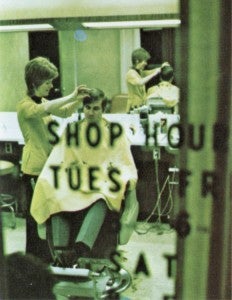 The Rensselaer Union building was completed in 1967 on the corner of 15th Street and Sage Avenue. This new building was constructed with a growing and diverse campus population in mind. Ample space to accommodate the needs of the entire campus community were addressed and anticipated in ways never before seen with meeting rooms, offices, dining services, a plethora of social spaces, places to lounge, a campus bookstore, a bank, a hair salon, and much more.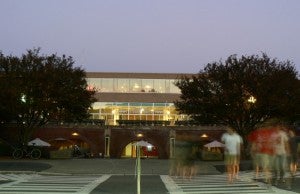 Today, the Rensselaer Union is a thriving hub of campus life and far from just a building. The Union sponsors club activities, campus-wide programming, performing arts and fitness opportunities for all Rensselaer students, faculty and staff. Additional documentation regarding the history of the Union can be found in the Shelnutt Gallery of the Rensselaer Union and the main floor of Folsom Library.