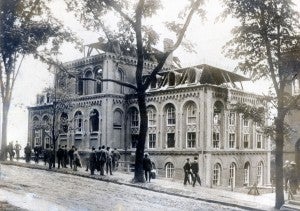 During the mid-19th and early 20th centuries fire twice played a seminal role in determining the Institute's future location. The destruction of Rensselaer's entire physical plant during the Great Troy Fire of 1862 resulted in its initial move up the hill overlooking the City of Troy and the Hudson River. Then in May 1904 a fire severely damaged Winslow Laboratory, and on June 9th a second fire destroyed the Main Building.
The 1904 fires raised the problem of finding suitable space for rebuilding and expanding the Institute. Leaving Troy was one possibility. Immediately following the fire Columbia University's President Nicholas Murray Butler wrote to Rensselaer's President Palmer Ricketts suggesting that the Institute take over all of Columbia's engineering education, merging with its School of Mines. Rensselaer would retain its name and identity within the university. Ricketts went to New York City to confer with President Butler. He was skeptical that Rensselaer alums would be in favor of the merger but found that most of the graduates he consulted had no objections provided that the Institute retained its identity. Ricketts himself does not appear to have favored the idea nor did Rensselaer's trustees who voted to reject the offer at their December 7, 1904 meeting.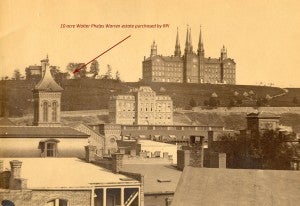 A month earlier, in November 1904, President Ricketts had addressed a public meeting organized by the Troy Chamber of Commerce. Ricketts appealed to Troy's self-interest in retaining an institution which brought in more than $300,000 annually to the city's merchants and landlords. A fund raising committee of distinguished alumni was formed and several prominent city residents proposed a number of possible relocation sites in Troy. In February 1905, Rensselaer's trustees finalized the purchase of the 10 acre Walter Phelps Warren estate for $125,000. Directly east across Eighth Street from the Main Building site, the property contained a large house and a stable located on what is now Hassan Quad.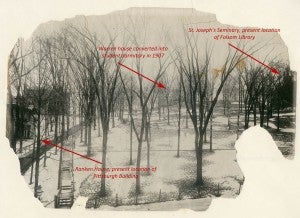 The Warren house, named "Mount Airy", was built in the Italianate style in 1862 by Joseph Warren (1813-1896), a successful local businessman. After being sold to Rensselaer by Joseph's son Walter Phelps Warren, the house was converted into a student dormitory in 1907 and remained the only campus housing until 1916. The house was officially named the Campus Dormitory by a resolution of the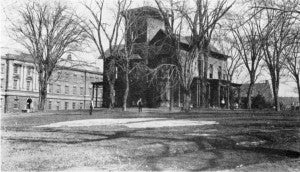 Board of Trustees in 1916. The Institute rented rooms to about thirty students. A caterer supplied meals and was paid directly by the students. In 1935, after the construction of two new dormitories, the Board of Trustees decided to dismantle and remove the old Warren House.
The Institute deeded the old site of the Main Building to the City of Troy, with the understanding that Broadway would be extended up the hill by means of a broad, granite staircase—The Approach, which was completed in 1907.