I was looking for a good sports theme for this post when I read that the RPI women's lacrosse team was hosting the Liberty League championships this year.  I decided 2014 would be as good a time as any to watch my first lacrosse game.  I was not disappointed!
But since I'm an archivist, I first wanted to know more about the team's background.  Using the digitized student newspaper collection, I found lots of useful information.  Ads for organizational meetings indicate a women's club team was formed early in 1981.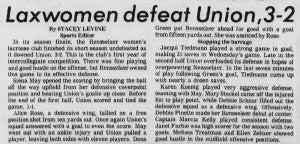 There are no articles about the team that first year, so it's unclear if they played any games.  However, a 1983 write-up indicated the team's 1982 record had been a respectable 1-0-1.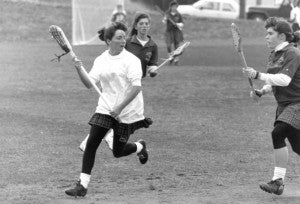 By Fall 1983 the club was already planning a spring training trip to Florida to prepare for the '84 season.  Three years later the players petitioned for varsity status after "an exceptional season" (Rensselaer Polytechnic, April 29, 1987); however they were not immediately successful.  A subsequent petition was approved in December 1990 by the Student Athletics Board, E-Board, and the Athletic Department.  The team would attain Division III varsity status in 1992.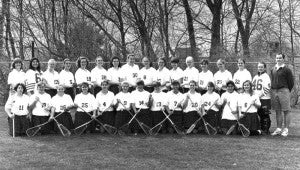 The early 1990s brought another improvement for the laxwomen, as the Poly occasionally refers to them.  In 1991, Vice President for Student Affairs Lee Wilcox announced the addition of a second full time coach for women's sports.  Beth Stacey was hired to coach both field hockey and lacrosse during the latter's formative varsity years.  While the team finished with a 5-5 record in its inaugural year, they had an 11-1 second season in 1994.  Three years later RPI was undefeated in league play, ending up with a 13-3 overall record.
Fast forward to May 3, 2014.  On a cool, damp Saturday afternoon I headed over to Renwyck Field where the women's lacrosse team was hosting Union in the final game of the league championship.  At half time RPI was up 10-4, but part way through the second half Union started coming on strong, scoring twice in just 29 seconds.  Soon, however, the home team rallied, ending the game with a decisive 15-8 score.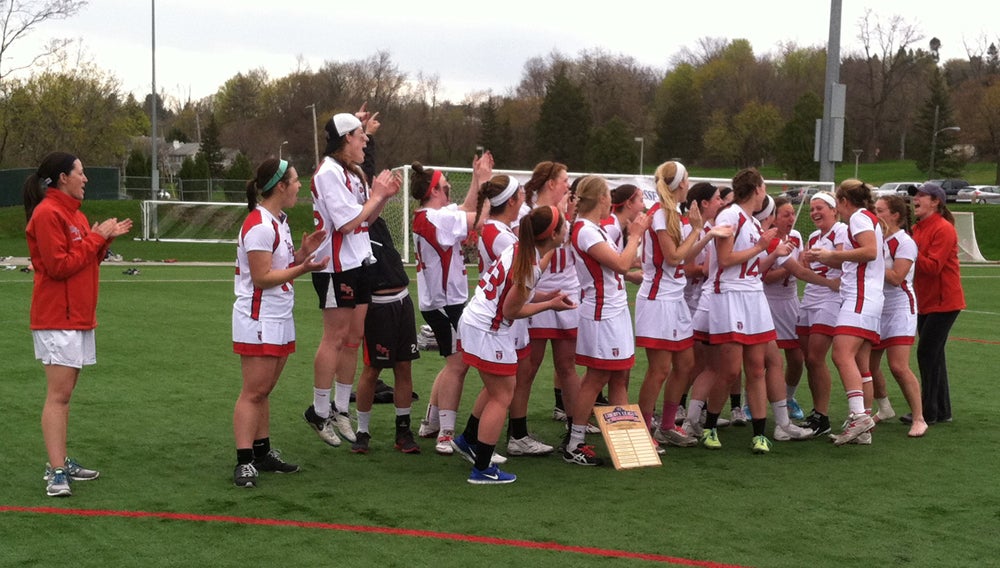 While I know little about the game, it wasn't hard to see the talent among the Rensselaer players.  The goaltending was impressive, and once RPI had possession players quickly moved the ball up-field to set up their offense.  Once there they showed great control and even greater patience, working the ball until a good scoring opportunity arose.  Only then they struck, scoring on 15 of 21 shots.  Amazing!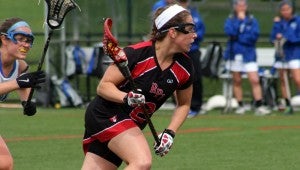 A week later RPI faced Fredonia in the second round of the NCAA Division III tournament.  This was the team's third consecutive appearance in nationals, and once again the home team emerged victorious, taking a one goal lead in the final seconds of regulation time.  Unfortunately, this time Fredonia had the home field advantage, winning 9-8 over a strong Rensselaer opponent.
While I'm sure this was a tough loss, I fully expect the women's lacrosse team to continue to work toward the ultimate goal in any college sport – a national championship.  Good luck, ladies.  I'll be watching!