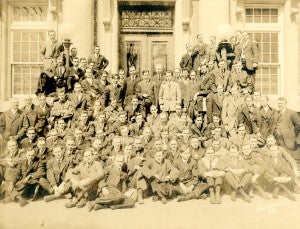 In our efforts to bridge the gap between the past and present, we share with the Class of 2014 a look back one hundred years ago, when Rensselaer bid farewell to the Class of 1914.
Not your average commencement, the senior class of '14 and the Students' Council presented plans for the first ever grand, innovative commencement celebration for the Institute's 90th birthday. What was different? According to several class histories in the Archives, there were mixed emotions regarding the expansion of the Institute. Classes familiar with the Institute before it moved up the hill believed there had been more camaraderie and stronger school spirit during their time at the Institute. Those who experienced the expansion of campus on the hill, who watched as buildings were constructed, a field was created, and a clubhouse for students was offered, felt that they had an even greater love for the Institute and everything it offered.
Therefore, in 1914 the students advocated for the graduating class to become more acquainted with returning alumni and for alumni to feel more at home on the new campus situated upon the hill.  The students asked that every Rensselaer man, graduate or undergraduate, make an effort to take part in a Grand Pageant and that all classes dress in costume!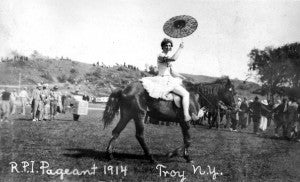 Commencement events lasted three days beginning on Monday, June 15, 1914. On Tuesday at 2 p.m. the Grand Pageant, with all of the classes in costume, assembled on Seventh Street near Broadway. The procession paraded throughout the city of Troy, traveled up the hill on Avenue B (Sage Ave.) and continued around the '86 Field.  The festivities came to a close with cheers and yells and the approval of President Ricketts. Several students dressed as clowns and participated in a unique array of stunts, while one seemingly jolly horseback rider in a tutu proceeded to mosey through the crowds!
Aside from descriptions of this Grand Pageant in the Polytechnic, a lovely photo album of the grounds and the parade exists. We presume a woman named Marie Etta Leadley compiled the album. Her name is written on the inside cover but unfortunately we don't know who she was. We rarely see female names related to student life activities from the Institute's early days. Nevertheless, we interpret the album as telling a story about a unique period in RPI's history. The first few images showcase the Institute on the hill beginning with the newest constructions: Carnegie (1906), The Approach (1907), Walker Laboratory (1907), Student Clubhouse (1908), Russell Sage Laboratory (1909), Pittsburgh (1912), '87 Gymnasium (1912), and Tillinghast Gate (1914). The album ends with the Grand Pageant on June 16, 1914, and follows the parade trajectory through the streets of Troy up to the new campus and '86 Field.
To the Class of 2014 we share with you this unique glimpse into Rensselaer's history.