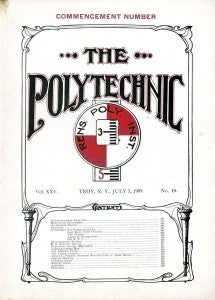 The staff of the Institute Archives is pleased to announce the digitization of back issues of RPI's student newspaper, The Rensselaer Polytechnic.  As of January 2014, 121 volumes (1869, 1885-2001) are fully searchable in the library's digital repository.  That's roughly 2,800 issues, for a total of over 41,000 pages!
Background and future plans  This digitization project was just one step in a larger effort to reformat the Poly.  In 2001 the newspapers were microfilmed to preserve the fragile originals.  While microfilm is an effective preservation format, it's not exactly user friendly for access purposes.  Eventually, the 41 reels of film were scanned by Hudson Microimaging, which also used optical character recognition (OCR) software to capture the text for indexing.
Our next challenge will be adding "born digital" issues dating from 2002 to the present.  Later we hope to devise a method of capturing digital content at the point of creation.  This is a critical step in providing long term access since several recent issues were published exclusively online.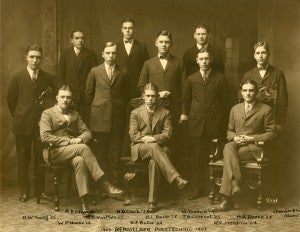 About Rensselaer Digital Collections  Rensselaer Digital Collections consist of materials of intellectual, historic and cultural value to Rensselaer in a wide variety of image, audio, video and text formats. The goals of the Digital Collections are to facilitate the preservation of these resources, to expedite research through enhanced search and retrieval, and to promote Rensselaer by providing an avenue for the dissemination of work by its faculty and students to the widest possible audience.
Materials from the Institute Archives and Specials Collections include school histories, RPI songs, materials relating to the RPI lacrosse team that played in the 1948 Olympics, Union Annual Reports, and other items documenting the history of the Institute.  Also, the alumni magazine is in the process of being digitized, so stay tuned!
Disclaimer  Due to copyright issues involving syndicated content, newspapers from 1977 and later can only be accessed either from on campus or with a current RCS login.  We'll try to remedy that, but in the meantime, we hope off-campus visitors enjoy the earlier Polytechnics.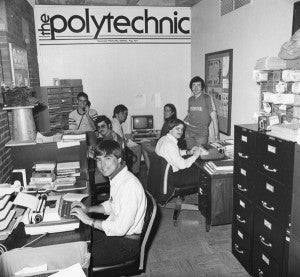 Access and navigation  The Poly can be accessed by either browsing or searching the online collection via Rensselaer Digital Collections (RDC).  To browse by date, just click on "The Rensselaer Polytechnic (student newspaper)" under "Featured Collections."  You can select a volume from the list, then open any issue by clicking on its thumbnail image.  When a copyright page opens, just click the "Continue" button.
RDC offers various search options, but the easiest method is limiting your search to "The Rensselaer Polytechnic (student newspaper)" in the "Select collection" drop down menu.  Simple keyword searches such as "rpi playhouse" or "amos eaton" work well, especially if used in combination with the "Exact" search option.  Once the results appear you can sort them by date to hone in on a particular time period.  Searching works best in Internet Explorer, which highlights search terms within the results. For more information, send us a comment, or contact Tammy at 518-276-8333.