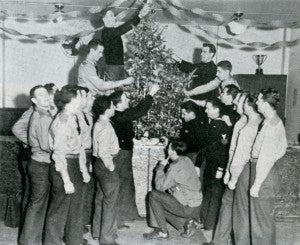 Lately we've been reviewing our collections for information about the era in which the first women students were admitted to Rensselaer.  This occurred in the fall of 1942, after the United States entered World War II, as industries clamored for female engineers to help replace men called to military service.  The admission of women, however, proved to be only one of many changes on campus during that period.  As the war dragged on, almost every campus tradition was disrupted.
With its existing Naval ROTC program, RPI was a logical choice for additional military training such as the V-5, V-7, and V-12 programs.  Soon cadets and pilot trainees outnumbered civilian students.  Buildings were modified to support the influx, and the academic calendar was accelerated.  Everyone was expected to support the war effort.  Ultimately all aspects of the Institute changed to accommodate wartime needs – academic programs, athletics, social activities, and even holiday observances.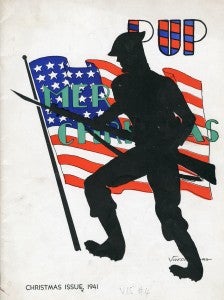 Even before the U.S. entered the conflict, its impact on campus was felt.  The cover of the 1941 Christmas issue of The Pup (the campus humor magazine) is a good example.  Printed before the December 7 attack on Pearl Harbor, the issue's cover depicts a soldier obscuring the words "Merry Christmas" across an American flag.  The following September the magazine ceased publication "for the duration," a phrase that comes up frequently in documents of that era.  That same semester (Fall 1942) the administration announced classes would be held on Thanksgiving Day, while the holiday break was reduced in order to squeeze three full semesters into a calendar year.
As the fighting wore on, more and more sacrifices were made on the home front.  Ads and articles in The Polytechnic asked students to restrict the number and duration of phone calls.  "Ma Bell" appealed to citizens' patriotism to keep the lines open for wartime emergency communications.  However, in the December 14, 1943 Poly, Dean of Students Ray Palmer Baker encouraged those stuck on campus to call or write their families to brighten the holidays.  He hoped "the day, even if it is touched with sorrow, will still be filled with happiness."
The following clippings help illustrate the tenor of the times.
We hope your holidays, however and wherever you observe them, will be happy and fulfilling.  And we wish you all the best in the new year. Tammy, Jen, John & Kitty