This weekend the Rensselaer community will celebrate the 10th anniversary of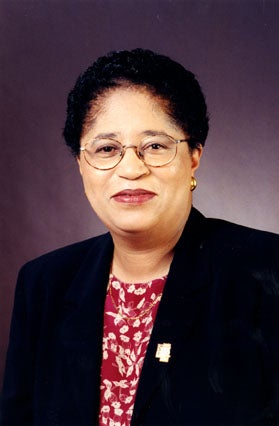 Dr. Shirley Ann Jackson's tenure as president as well as commemorate the first decade of the Rensselaer Plan and completion of the Renaissance at Rensselaer capital campaign.  Dr. Jackson's accomplishments are readily apparent and widely publicized.  If you have any affiliation with Rensselaer, you know that she is acclaimed as an effective leader.
I generally avoid superlative attributions.  It's too subjective - the greatest and the best cannot be boiled down to one individual.  That's why we often say one of the best or among the greatest.  Though it can be interesting to apply these attributions in a historical context, it's helpful to keep in mind that often "the times make the man."  When there is some historical perspective on Dr. Jackson's tenure, I wonder if she will be considered among the greatest Rensselaer presidents.  Who else is in that league?  Two past presidents immediately come to my mind - Palmer C. Ricketts and Livingston W. Houston.  Both men were alumni of RPI and spent over sixty years of their lives at the Institute.  Now that's dedication!  A couple of weeks ago Carl Westerdahl and I gave a presentation at a Friends of Folsom luncheon titled Leadership Legends: Rensselaer's Leaders of the Past. We highlighted the significant accomplishments of seven leaders.  Ricketts and Houston were among them.  I won't reproduce all of that content here, but I'll briefly list the accomplishments of these two men below.
president for 33 years (Director for 10 yrs previous to that)
10 academic buildings added to the campus
29 dormitory units added making RPI a residential campus
$1 million gift from M. Olivia Sage in 1906 - this would equal over $54 million in 2008 dollars (using the value of consumer bundle)
endowment grew from $238,000 to $6.3 million
endowed professorships in chemistry
instituted degree programs in electrical, mechanical, chemical, metallurgical, aeronautical, and industrial engineering, as well as architecture and graduate programs
enrollment increased from 200 to 1900
faculty increased from 15 to 129 and included internationally known professors
president for 14 years (trustee for over 40 yrs)
enlarged the campus from 93 acres to 220 acres
acquired 10 buildings including the Field House
acquired 437 temporary housing units
Freshmen dormitories and Commons dining hall constructed to accommodate 900 students
enrollment increased 150% in five years
faculty doubled in size during Houston's tenure
appointed the first Dean of Faculty and Dean of Students
endowment increased from $10 million to $26 million (there was no capital campaign and no major gifts)
Rensselaer at Hartford was opened to provide graduate education for working professionals
Research Division, Co-Op Program and Affiliated College Program were established
reorganization of the Institute into Schools of Engineering, Science, Architecture, Management and Humanities & Social Sciences
Lacrosse and Hockey teams won national championships
Our standard restriction period for the records of administrators is 50 years.  This means that the records are closed to the public and only available to the office that created them during that time period.  I think this number translates well to historical perspective too.  Looking back on decisions, events, accomplishments, etc. 50 years after they occurred gives us enough time to put them in context.  Wouldn't it be cool if this blog post is still around in 2060 when an archivist opens the Jackson Papers?!