It is not surprising to find that flu pandemics have impacted the RPI community in the past.  In 1918, the Spanish flu hit campus at a most inopportune time.  It was October and 650 students conscripted into the Student Army Training Corp were about to move into temporary barracks on campus.  The flu ripped through the SATC and by the end of October, six men had died of pneumonia.  Nearly 200,000 people in the U.S. died of flu complications during that month.  A quarantine of the troops at RPI was lifted in November as the number of cases declined.  The soldiers were then able to move into barracks set up in the 87 Gym, Student Clubhouse and the new dormitories.  The flu epidemic was followed by an outbreak of diphtheria; at least thirty-five cases were reported.  A total of fourteen students died as a result of these diseases.  Students were quickly immunized with diphtheria antitoxin if they tested negative to immunity.
Image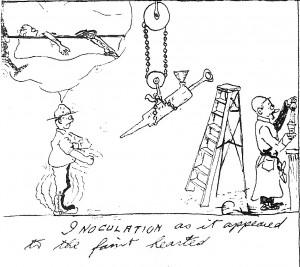 During the month of October in 1957, nearly 20% of the student population was suffering from the Asiatic flu.  Many of the affected students were freshmen. The Infirmary was filled to capacity and additional beds were set up in the 15th St. Lounge (now the Playhouse) to house the sick.  The IFC Ball and the RPI-Union football game were canceled, but both events were eventually rescheduled and RPI's hopes of defeating Union were realized.
Image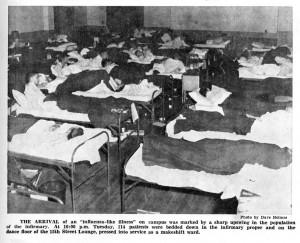 The 1968 Hong Kong flu outbreak was not as dramatic as the others, but still significant.  Most of the cases were reported in mid-December -- not a good time for a student to be sick!  According to The Polytechnic, thirty-five students were confined at the Infirmary the week prior to December 18, 1968.  Additional beds were set up in the 15th St. Lounge, but were not used.  All academic, athletic and social activities were held as scheduled.
A recent update on the current outbreak of swine flu (H1N1) reports a total of 21 64 cases on campus.  At this time, we can only guess how this event will compare with past flu pandemics and how it will be viewed from the future.