This topic combines two of my archival curiosities -- RPI artifacts and former RPI clubs.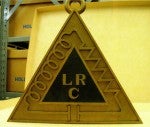 The artifact is a molded plastic triangle with circuit symbols in relief and a black inset triangle with the gold letters L/R/C.  The former club is LCR.
This is a description of LCR found in the 1948 Transit:
LCR was founded in 1922 to promote better fellowship among the student Electrical Engineers at Rensselaer and to effect a closer understanding between the students and faculty of the department. For the benefit of those persons unfamiliar with electrical notations, the letters "LCR" stand for inductance, capacitance, and resistance. During the week of initiation candidates are required to wear a sign bearing these letters around campus and to carry with them a crystal set in various stages of assembly. At the end of the initiation week the sets are supposed to be completed - and it's said that some of them actually work. Members of LCR may be identified by their charms, which are in the shape of a triangle, with the letters LCR set in a background of black. Twice each year new members are selected from those men having a good scholastic standing, active in extracurricular activities, and who will promote the interests of the club.
The initiation rite amuses me. :-) LCR became inactive around 1967 -- this is when it was last listed in the student handbook. Some club records and the object pictured above were transferred to the Archives in 1984.  The object is basically an enlarged replica of the LCR charm.  I can't show you the charm because, well, we don't have one.  (Donations of such items are always welcome and you know where to find me. ;-))
I plan to write more blog posts about dormant RPI clubs in the future. Stay tuned!