When did the first students from China come to RPI?  This question was asked during our open house event recently.  A quick answer was readily available in an alumni directory, but my curiosity was piqued and I decided to dig a little deeper to find out who these students were.  Two students from Guangzhou (once referred to as Canton) arrived at RPI in the fall of 1878 and roomed together at a boarding house on Second St.  The students names are listed as Kwok S. Loh and Wing Chung Pawn.  Their names were written phonetically and the inversion of Chinese names was misunderstood so spelling was inconsistent.  Their fellow students referred to them as the "celestials" a term commonly applied to Chinese who were subjects of the emperor or the "Son of Heaven."  The Qing Dynasty ruled China during this time.
Three more Chinese students, one from Guangzhou and two from Shanghai, arrived at the Institute in 1880.  They didn't stay long.  Sadly, Wing Chung Pawn died of tuberculosis in 1879.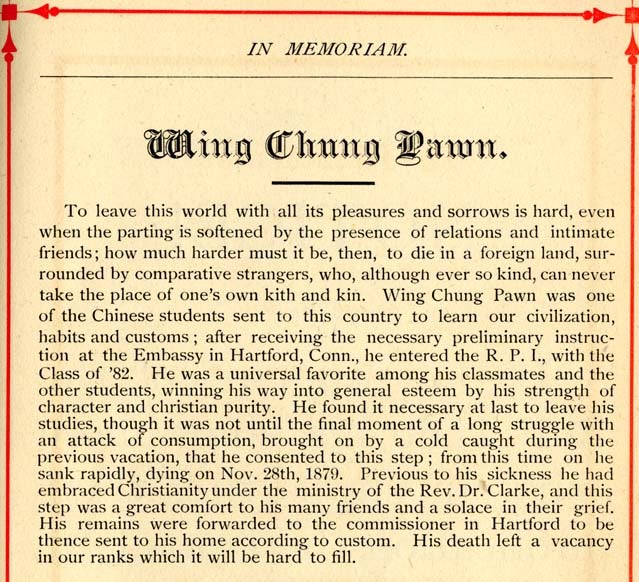 An entry in the 1881 Transit states that Loh "our only remaining Celestial...will doubtless astonish all Chinadom some day with his patent system of duplex telegraphy."  Loh returned to China in 1881 just short of a degree, but armed with enough civil engineering knowledge to make significant contributions to his country.  An article in the China Monthly Trade Report dated June 1, 1928, credits one of his initiatives.
It is difficult to state when "better roads" was first voiced in China.  The original advocate seems to have been Mr. Lo Kou-shui, who while serving as technical secretary and adviser to the Ministry of Communications in 1913, strongly urged the adoption of a highway program as a compliment to the construction of a national system of railways then being drawn up.  In his opinion any large investment in new railways would fail to bring adequate returns unless feeders in the form of modern roads were constructed to permit the produce of the tributary districts being cheaply transported to the railway.  Mr. Lo at that time ranked as one of China's foremost foreign-trained engineers, being of the first group of American returned students and a graduate of Troy Polytechnic Institute.  His constant urging upon the Peking [Bejing] authorities to place such a plan into practice resulted in a presidential mandate being promulgated on November 15, 1919, stipulating certain regulations for the constructions of new roads.
Yep, that's our Kwok S. Loh!  See what I mean by spelling inconsistencies?  And yes, Troy Polytechnic Institute is actually Rensselaer Polytechnic Institute.
Animosity towards Chinese immigrants, especially in the west, resulted in the 1882 Chinese Exclusion Act.  Though this act did not prohibit international study, it appears to have kept Chinese students away from RPI for many years.  The next group of Chinese students did not enter until 1907.