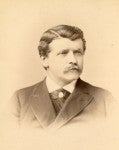 Grand Marshal Week is just ahead and the campus is covered in campaign signs. This past week, while looking through a scrapbook compiled by Dwinel French Thompson, I found a few news clippings regarding GM week during the 1870s. Before I get to that, I should tell you a little about this person. Dwinel F. Thompson was professor of descriptive geometry and drawing from 1872 to 1917. He taught a course that students loathed, but they didn't hold it against him. In one of several yearbook dedications to him, he is described as one "whose kindness, consideration and courtesy have always won the respect and affection of the students." You can see what he looked like below - he does seem to have a kindly countenance!
Enough about Dwinel...back to GM week. I learned a few new things about past Grand Marshal traditions from a Troy Times clipping that described the 1876 GM festivities.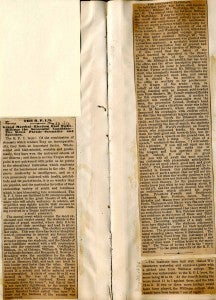 There was a baton with the names of past GMs inscribed on it that was retired to the library after the 12th GM. (The baton is unfortunately not in our artifact collection. I wonder whatever happened to it?!)
The outgoing GM was given a gold headed cane as a gift for his service.
The silk top hat was awarded to the GM that year, which means the tradition goes back further than I realized. Documentation that I had previously collected only went back as far as 1886.
The new GM led a parade through the streets of Troy to the houses of faculty where the students "serenaded" professors. They then went on to party downtown (Partying has pretty much always been a part of GM week).
The GM elected that year was Coddington Billings. Check out his hairy mutton chops below! You will notice in the news account that fraternity support influenced the outcome of the election. Will it be any different in 2008?