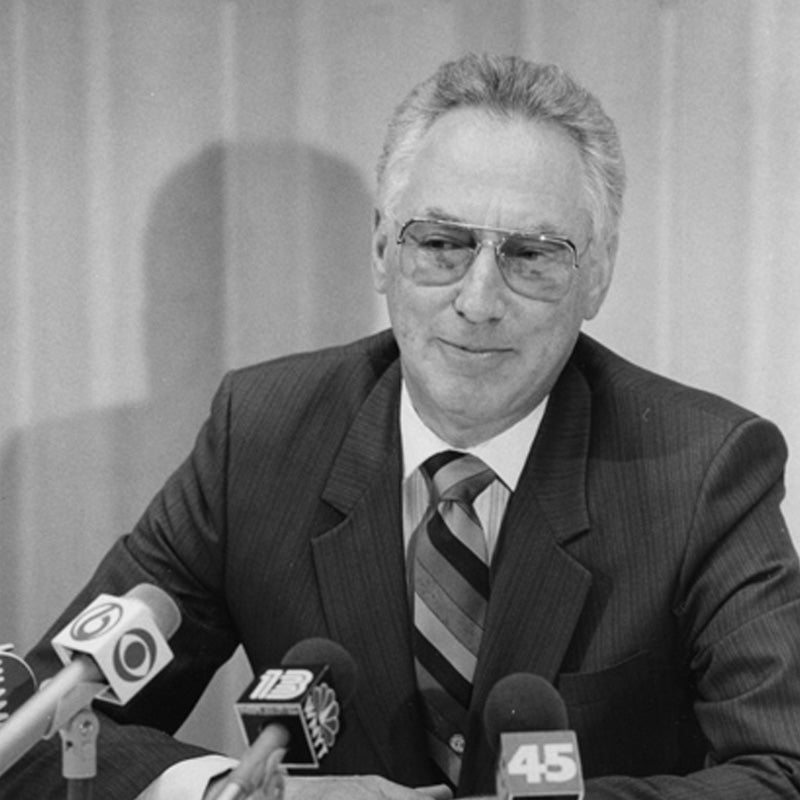 Stanley Landgraf was born in Saugerties, NY, the son of Mr. and Mrs. Joseph Landgraf. Although he was in the Rensselaer Class of 1946, Landgraf graduated with a bachelor's degree in metallurgical engineering in 1945 under the Naval V-12 Program, and, after serving as a naval officer in the Pacific Theater aboard the Destroyer USS WATTS, he returned to Rensselaer and received a second bachelor's degree in management engineering in 1947.
Prior to his retirement in 1985, Mr. Landgraf had served as Chief Executive Officer, President, and Chairman of the Board of Mohasco Corporation, with which he was associated for almost 40 years. He joined Mohawk Carpet Mills of Amsterdam in 1947, and after its merger to form Mohasco Industries, he headed its carpet operation as group vice president. Landgraf was president of the nonprofit Capital Region Technology Development Council from 1985 to 1995, an organization that provides volunteer managerial support and interface with potential investors for Capital Region start-up companies.
Landgraf supported Rensselaer in countless ways. Most importantly, he guided and directed Rensselaer as the acting president from 1987 to 1988. During his 20 years on the Board of Trustees, he served on many board committees, including Audit, Student Life, and Community Relations, and had been chair of both the Committee on Trustees and the Technology Park Committees. He was an ardent supporter of Rensselaer's ice hockey program, including providing an ongoing scholarship fund for deserving hockey players. Other activities in support of Rensselaer included serving on the Leadership Gift Committee in 1965, as co-chair of the Houston Field House Renovation Committee (1979), chair of the Renselaer Fund Steering Committee (1986 and 1987), Co-City Manager of the Capital District Special Gift Committee for the New Century Campaign (1989-1991), volunteer for the Rensselaer Annual Fund (1988-1996), and chair of the campaign to create the Ned Harkness Athletic Track and Field (1992-1993), among others.
A founding member of the Rensselaer Council in 1972, Landgraf was a member of the School of Management Board of Overseers from 1985 to 1992, and a member of the Selection Committee for the Rensselaer Hall of Fame in 1997. He received Rensselaer's Albert Fox Demers Medal in 1985, the Council for Advancement and Support of Education Volunteer of the Year Award in 1986, and Rensselaer's Distinguished Service Award in 1988 in recognition of his many volunteer efforts on behalf of the Institute.