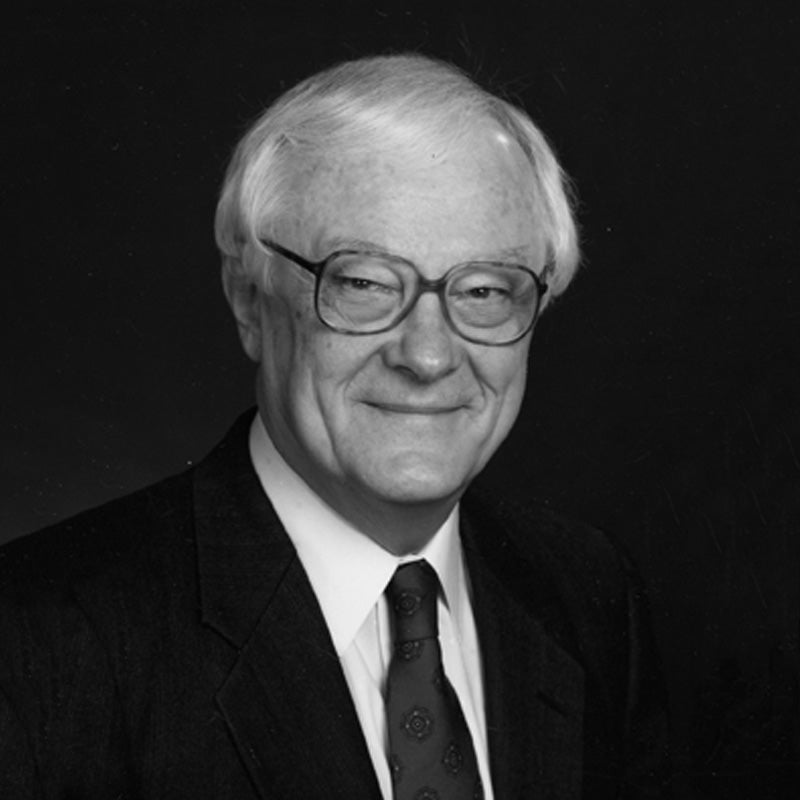 Roland W. Schmitt, scientist, manager and educator, was born in 1923 in Seguin, TX. He received his bachelors and masters degrees in physics and mathematics from the University of Texas and his doctorate in physics from Rice University. He was employed by the General Electric Company for more than 37 years (1951-1986), and from 1978 to 1986 he managed the company's Research and Development Center in Schenectady, one of the world's largest and most diversified industrial laboratories.
Throughout his career, Schmitt has been a vocal and respected national statesman in Washington D.C. on legislative and policy issues related to federal spending on research and development, technology, competitiveness, and higher education. At Rensselaer, where he served as president from 1988-1993, he was one of the nation's most visible and nationally quoted experts on science and technology policy. He served as Chair of the Council on Research and Technology (CORETECH), an organization of universities, companies, and research institutes devoted to promoting national policies that encourage research and development.
During his tenure as president, Schmitt began a variety of new initiatives. With state, federal, and corporate support, Rensselaer established a Center for Advanced Technology in Automation and Robotics, the Northeast Manufacturing Technology Center, and the Lighting Research Center. The Institute also began attracting national attention and acclaim for its effort to incorporate advanced computers into its science curriculum. The Harlan and Lois Anderson Center for Innovation in Undergraduate Education was established. The faculty and staff developed many programs designed to interest pre-college students in science, math, and engineering. Several new degrees, including a master's of fine arts, an MBA that emphasizes management and technology, and a new teacher-education program for secondary science and math teachers were introduced. Rensselaer's Incubator and Technology Park enjoyed continued success, fostering new ventures and creating new jobs in New York's Capital District.
Schmitt's professional achievements include being a member of the National Science Board, and Chair from 1984 to 1988. He is Chairman of the American Institute of Physics Board of Governors, and a member and president of the Council of Scientific Society Presidents Executive Council. Schmitt holds honorary Doctoral degrees from the University of Pennsylvania, Worcester Polytechnic Institute, Union College, Lehigh, University of South Carolina, Universite de Technologie Compiegne in France, College of St. Rose, Russell Sage College, and the Hartford Graduate Center. Additional service and career contributions include fellow of the American Academy of Arts and Sciences, American Physical Society, Institute of Electrical and Electronic Engineers, New York Academy of Science and American Association for the Advancement of Science.