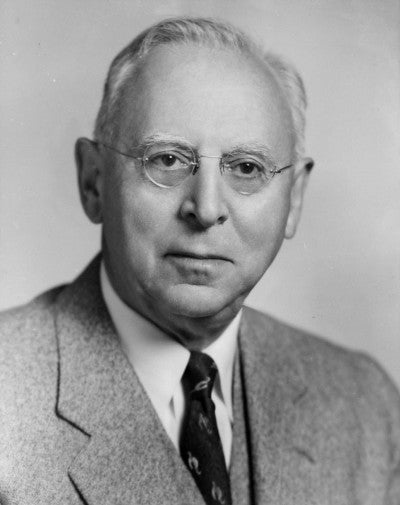 Ray Palmer Baker was born September 21, 1883, in Fonthill, Ontario, Canada. In 1906 he received his B.A. from University of Western Ontario. In 1910 he received a Ph.M. from the University of Chicago. In 1916 he received a Ph.D. from Harvard University.
Ray Palmer Baker's career falls into three categories: education, public service and scholarship. Baker arrived at Rensselaer Polytechnic Institute in 1915 as Professor of English. An active member of the Faculty for 39 years, Palmer was head of the Department of Arts, Science and Business Administration, Assistant Director, then Dean of Students and in 1949 was elected Vice-President of Rensselaer. Baker introduced the humanities and social studies to Rensselaer while also establishing the natural sciences-physics, chemistry, and biology as independent disciplines and organized curricula in economics and other related subjects. Throughout Baker's tenure as Faculty member he maintained an interest in research and scholarship. As author of numerous books and articles Baker contributed to the Dictionary of American Biography as well as several encyclopedias.
From 1915 to 1940 he was Professor of English; from 1925 to 1940 he was Head, Department of Arts, Science and Business Administration; from 1930 to 1949 he was Assistant Director; from 1944 to 1949 he was Dean of Students; from 1949 to 1954 he was Vice President; in 1955 Baker was named Vice President Emeritus.
Baker retired in November 1954, after 39 years of service. He is noted for bringing the curricula of the Institute into the Twenty-First century, transforming the former civil engineering school into a genuine technological university.