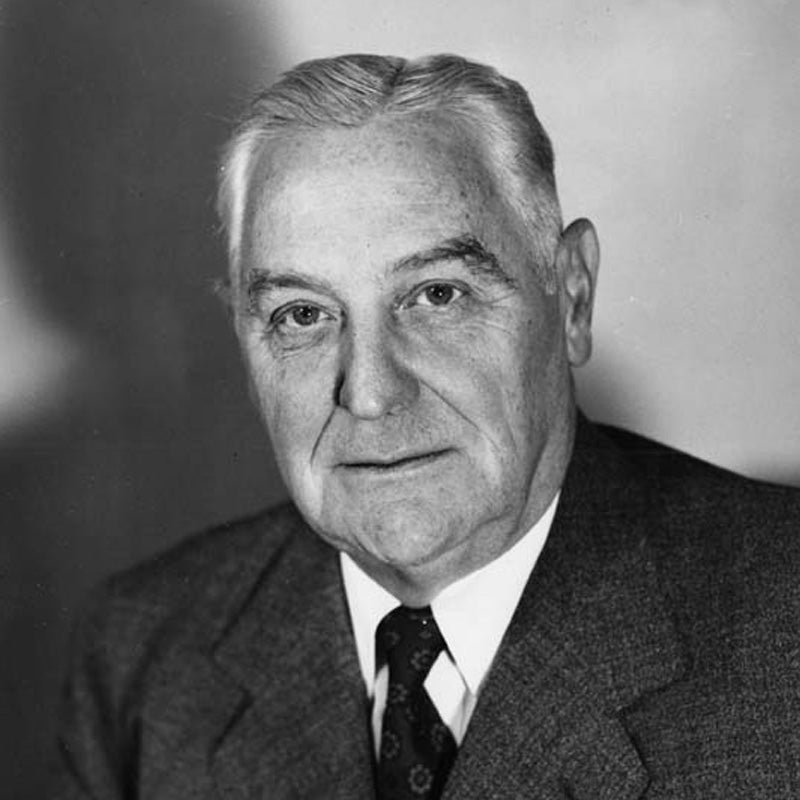 Livingston ("Liver") Waddell Houston was born in Wyoming, OH in 1891. He enrolled as a student at Rensselaer in 1909 and, as an undergraduate, was captain of the varsity basketball and tennis teams, managed the baseball team, and joined Delta Phi fraternity. He graduated with a mechanical engineering degree in 1913 and remained associated with the Institute for 68 years.
Following graduation, he worked as an assistant construction manager for Mobil Oil and later as assistant manager of inspection for the Griffin Wheel Co.
Houston served in WWI with the First Illinois Field Artillery on the Mexican border, and then in France as a captain in the U.S. Ordinance Department. He returned to Troy after the war and joined Ludlow Valve where, in his 40-year career (1919-1960), he rose through the ranks to become president and chairman of the board.
In 1925, Houston was elected a life trustee of Rensselaer (the youngest person ever to be honored). Then, in 1932, he was elected secretary of the Board, a position he held until 1943. Houston served as President from 1944 to 1958. He was elected Chairman of the Board in 1958 and continued to play an active role in the university's affairs as President Emeritus until his death.
During Houston's years as president, Rensselaer's enrollment more than doubled, and faculty strength increased proportionately. The campus grew from 93 to 220 acres. An astute businessman, Houston tripled Rensselaer's endowment. Houston encouraged greater emphasis on the importance of non-technical subjects and extracurricular activities in the education of engineers. Houston believed that more emphasis was needed on college sports, student publications, and musical clubs. He encouraged the formation and development of outstanding debating, dramatic, and musical organizations. During his presidency the Affiliated College Program was established, under which students studied three years at a liberal arts college, then two years at Rensselaer. He also established the cooperative Education Program, which allowed students to alternate semesters between classroom and industrial assignments.
Houston pioneered three new degree programs in geology, mathematics, and mechanics, reorganized academic departments, established an Evening Division, inaugurated the Graduate Division (now the Graduate School) and formed the Research Division. The Hartford Graduate Center, undertaken jointly with United Aircraft Corporation was established to increase the productivity of engineers and scientists engaged in highly critical defense projects being carried out in the Hartford, CT area.
Houston was a visionary who brought the Field House that now bears his name to campus as an outlet for student cultural and athletic activities and an arena for broader community and civic interactions. The renovated Navy warehouse that Houston had moved to Troy became the site for industrial council meetings, national political rallies, concerts, hockey and basketball games, and social events. The new Houston Field House established a strong tie between Rensselaer and the community.
Always active in the community, Houston served as a trustee of the Troy Public Library, Albany Academy, and the Troy Savings and Marine Midland banks. He was also a director of the United Traction Company of Albany and the Albany Insurance Company. Houston was awarded honorary doctorates from Rensselaer, Polytechnic Institute of Brooklyn, Stevens Institute of Technology, Trinity College, Union College, Middlebury College, Syracuse University, and St. Lawrence University.
Houston died at Samaritan Hospital in Troy, N.Y. on November 22, 1977.