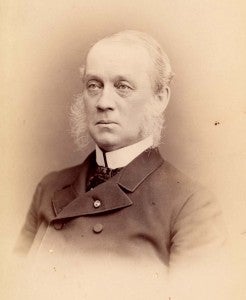 David Maxon Greene, C.E., son of Joseph Langford and Susannah (Maxson) Greene, was born July 8th, 1832, in Brunswick, Rensselaer County, N.Y. At the age of three years he was taken to Adams, N.Y., where he was brought up on a farm. His schooling was in the district school until he was fifteen years of age, when he attended the Adams Seminary. In October, 1850, at eighteen, he entered the Rensselaer Institute and graduated, August 29, 1851.
Immediately upon graduation, he was appointed assistant to the professor of mechanics and physics at Rensselaer, remaining until the spring of 1852. He was then appointed assistant engineer on the enlargement of the Erie canal. Here, he rose through the grades of chainman, rod-man, assistant leveler, and leveler. In September 1853, Greene was employed as assistant and division engineer on railroads in Ohio and Indiana. After a year's service, he became ill and returned east. In September, 1855, he was appointed professor of geodesy and topographical drawing at Rensselaer where he remained until the spring of 1861, when he was appointed third assistant engineer in the United States Navy. At the same time, Greene was also offered a position as chief topographical engineer for the Government of Peru, but he declined the offer.
While in the Navy, he was ordered to the warship Susquehanna, where he served sixteen months, participating in the engagements at Hatteras , Port Royal, Fortress Monroe, and the capture of Norfolk, and doing blockade duty along the coast from Hatteras to Mobile. In September, 1862, he was detached, and ordered to the United States Naval Academy, as senior assistant in the department of natural and experimental philosophy, and as instructor in steam engineering. After remaining three years in this position, he was ordered to duty as assistant to the chief of the bureau of steam engineering in the Navy Department at Washington, where he remained for three years. Here he was detailed as a member of a commission appointed by the U.S. Treasury Department to devise a means to secure the collection of the revenue on distilled spirits. Subsequently he was ordered to the United States steamer Narragansett, as chief engineer, in the West India squadron. In 1869 Greene resigned from the navy, after serving about eight and a half years.
After resigning, he settled in Troy, and began the practice of his profession as civil, mechanical and hydraulic engineer, and as consulting engineer and expert. In 1872 he was appointed chief engineer of the proposed Walloomsac railroad; also consulting engineer of the Ottawa City Water Works, Canada. In 1873, he was appointed chief engineer of the Dansville Water Works, Livingston County, New York, and in 1874 Village Surveyor of West Troy, New York. From 1871 to 1874, he served as engineer to the State Commission appointed to examine plans for introducing steam on the canals. In 1874 he was appointed division engineer on the New York state canals. In July of the same year he was appointed Deputy State Engineer, and served until January 1, 1878. From 1872 to 1885, he was engineer of the Troy City Water Board.
In September, 1878, he accepted the appointment of Director of Rensselaer. Unfortunately Green had never been popular as director. He had  numerous disagreements with faculty, students, and the trustees and was often the butt of student and newspaper wit. In 1891, Greene abruptly resigned after thirteen years of service.
Excerpt from Nason, Henry B., ed. Biographical Record of the Officers and Graduates of the Rensselaer Polytechnic Institute, 1824-1886. Troy, NY: William H. Young, 1887, pp. 131-132.