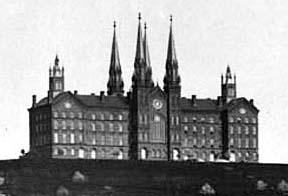 The Troy University building was erected on Mount Ida on property formerly owned by Jacob D. Van der Heyden. The building, designed by Edson and Engelbert of New York, was opened in 1858. The huge Byzantine structure, with four tall spires rising from the central portion, was an imposing figure on the landscape of Troy. The University floundered and, after four short years, closed its doors. The foreclosed property was sold to St. Mary's Church of Albany in 1863.
The building, renovated and completed, was opened as St. Joseph's Provincial Seminary in 1864. St. Joseph's Seminary trained hundreds of priests until it closed during the 1890's. The building was subsequently used for a variety of purposes including housing orphans for a time.
The Sisters of St. Joseph purchased the property in 1908 and established a Provincial House and Novitiate there in 1912. The Sisters continued to refer to the building as St. Joseph's Seminary. The Seminary housed a chapel, classrooms, receptions rooms and dormitory rooms for novices, teachers and retirees. When the Chapel was built in 1933, a portion of the old chapel was converted into additional dormitory rooms and class space.
The St. Joseph's Seminary property was purchased by Rensselaer in 1958. The original four-story structure was renamed the University Building. The School of Management, the Public Relations department and a portion of the Physics department occupied the first two floors. The upper floors were closed off due to concerns of structural instability. The building was demolished in 1969 and the Folsom Library was constructed on the site in 1976.