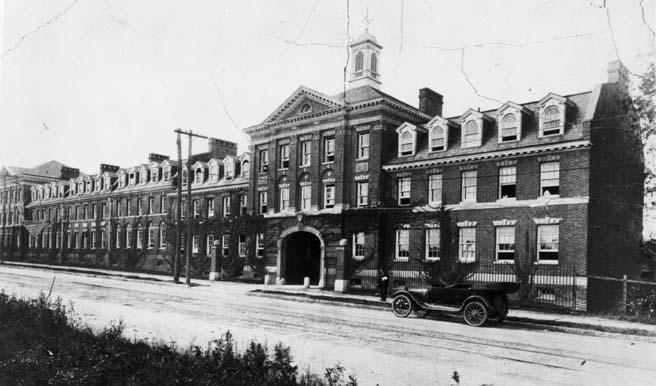 Alfred T. White, Class of 1865, expressed the desire to celebrate the fiftieth anniversary of his graduation by presenting the Institute with a dormitory. Plans were made for a dormitory quadrangle of separate houses joined together. Each house would be three stories in height with two suites of rooms on each floor, each suite generally consisting of a study and two bedrooms. Mr. White provided for four of these units (White Dormitories) along Fifteenth St. at a cost of $67,500. Captain Robert W. Hunt, a trustee of the Institute, built the next three dormitories at a cost of $57,200. The White and Hunt Dormitories were completed in 1916.
Mrs. Russell Sage gave $100,000 for the construction of a Dining Hall which forms the south side of the quadrangle. The building was named for Russell Sage II, a nephew of Mrs. Sage, who graduated in the class of 1859. It was completed in 1916.
Four additional dormitory units were completed in 1923 with contributions raised from alumni. The buildings were named for four distinguished structural engineers who graduated from Rensselaer: Leffert L. Buck (Class of 1868), chief engineer of the Niagara Highway Bridge and the Williamsburg Bridge; Theodore Cooper (Class of 1858), renowned consulting engineer; Charles Macdonald (Class of 1857), constructed the cantilever bridge at Poughkeepsie and the Hawksbury Bridge in Australia; and Washington A. Roebling (Class of 1857), chief engineer of the Brooklyn Bridge. The Roebling family subscribed $55,000 to the dormitory fund. The Roebling dormitory was built on the corner of Fifteenth St. and Sage Ave. and was larger than the other units with five singles on each floor.
The Pardee dormitory, built on Sage Ave. adjoining the Roebling building, was funded by Calvin Pardee (Class of 1860). It was finished in 1925. The Caldwell dormitory adjoining Pardee to the west was given by James H. Caldwell (Class of 1886), in memory of his son John C. Caldwell (Class of 1916). The Caldwell dormitory was built on rock and is four stories in height. Townsend V. Church (Class of 1881), who died in 1930, left Rensselaer $205,000 which was used to fund the building of six additional dormitories. Two of these dormitories continued in the line on Sage Ave. Three were built southward to form part of the quadrangle. The sixth Church dormitory was built at a distance of 200 feet to the south. Plans to extend this line and finish the quadrangle never materialized.
The Quad dormitories were completely renovated and reopened in 1988.