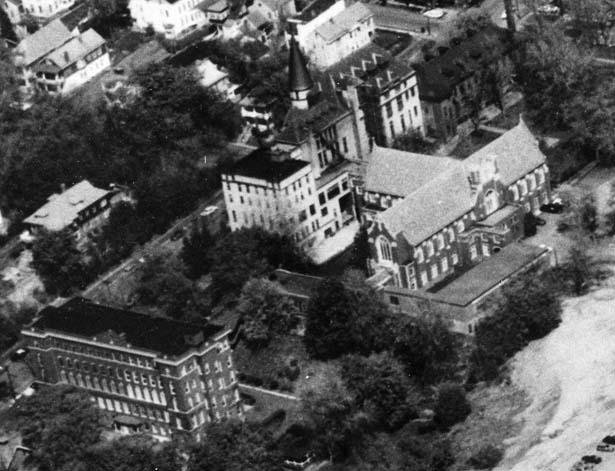 The People's Avenue Complex consisted of ten buildings that were interconnected into a sprawling complex between 11th St. and 14th St . The initial four-story building was built in 1887 as a home for the Sisters of the Good Shepherd. The Sisters used the facility as a home and school for wayward girls known as the Guardian Angel School. To support the school, the Sisters operated a commercial laundry in the basement of the building. Over the years more property and buildings were added as needs increased. The last wing was added in 1952. The buildings, connected by passageways, formed a complex that enabled the occupants to move about without having to go outside. The Guardian Angel School eventually became too expensive for the Sisters to operate and was phased out by 1966.
The building complex was purchased from the Sisters of the Good Shepherd by Rensselaer in 1965. The Institute, realizing that only a few of the buildings could be utilized permanently, planned to use the property as a future construction site. Portions of complex were used for offices, classrooms, student activities and storage space until 1973 when the energy crisis made the inefficient buildings too expensive to maintain.
Eight of the ten buildings, dilapidated and hazardous, were demolished in 1977. The remaining J and H Buildings were slated for conversion into student housing to ease an anticipated increased enrollment in the late 1970s. This plan was eventually abandoned and the J Building was renovated as a site for the Rensselaer Incubator in 1982. In addition to space for incubator companies, the J Building housed the Office of Communication Services, the print shop and the mail room. The H Building was also converted into office space and housed payroll and accounting functions.