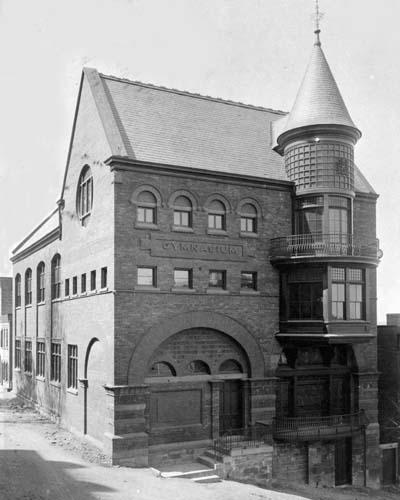 In May 1883, a petition was received by the trustees from the students who asked that steps be taken by the board to provide a suitable gymnasium for their use. The subject was again agitated later in the year, and in 1884 a lot on the south side of Broadway, at the foot of the property containing the Main Building, was purchased by the trustees. Upon this site a gymnasium of brick, trimmed with stone and terra-cotta, eighty feet long by forty-four feet wide, and two stories in height, was erected. It was opened March 11, 1887. About half the money expended in its construction was contributed by alumni, trustees, students and residents of Troy, and the remainder was appropriated from the funds of the Institute. The first story contain[ed] a reception room, a dressing room, showers and bowling alleys, and [on] the second [story] the main hall, which is about thirty feet high and fitted with the best patterns of gymnastic apparatus. There is a running track around this hall and at one end a gallery for spectators.
-- Ricketts, Palmer C. History of Rensselaer Polytechnic Institute, 1824-1934. New York, J. Wiley, London, Chapman & Hall, 1934, p.120.
The building was used as a gymnasium until 1912 when all recreational operations moved to the 1887 Gymnasium. The building was rented to the Troy Academy and later used by the Masonic Order until 1929. The RPI Players then took it over and converted it into the RPI Playhouse at a cost of $4000. The theater seated 400 people and a floor below the auditorium was used for dancing. The building, which was often referred to as a Troy landmark, was torn down in 1966.