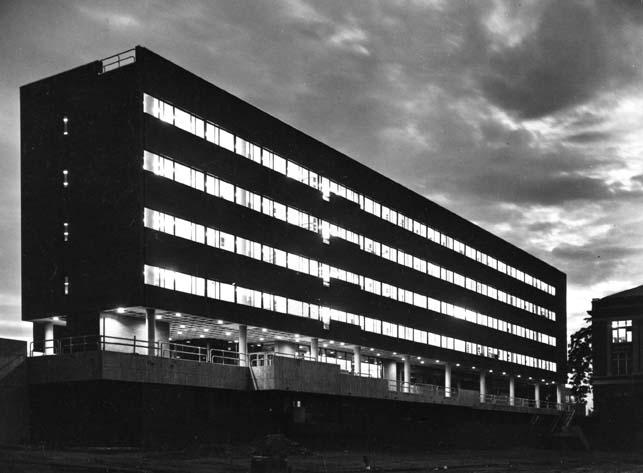 Plans for a new engineering center were made public in February 1974. The project moved forward quickly due to a pressing need to improve office conditions, facilitate student-faculty contact and faculty collaboration and upgrade laboratory facilities. The firm of Levatich, Miller & Hoffman (Peter S. Levatich, Class of 1955) made an in depth analysis of the existing Sage, Troy and Ricketts facilities and recommended two options: a new building to replace the Troy building and link renovated Sage and Ricketts buildings or a completely new center in another location. The first option, viewed as a less expensive project, was approved in the spring of 1974 and the Troy Building was slated for demolition during the summer.
At the June 1974 meeting of the Board of Trustees, the options were reviewed again in light of available funding, the disruption to classes and utilization of aging facilities. The Board decided in favor of a new engineering center between Greene and the Communication Center . This option would allow Sage, Troy and Ricketts to be renovated for other purposes and activities could be transferred from West Hall, Pittsburgh and Carnegie. A model of the new seven story engineering center was presented in the fall of 1974. Mr. and Mrs. J. Erik Jonsson donated $2.6 million towards the cost of $17.8 million.
A unique ground breaking ceremony took place on April 18, 1975. An underground explosion was triggered by a long distance phone call placed by Margaret Jonsson from Dallas , Texas .
Construction for the building progressed smoothly and was completed on schedule in the fall of 1977. During the construction, the '86 Field was referred to as the '43 Field since one-half of it was used as a staging area. Formal dedication of the Jonsson Engineering Center took place on October 7, 1977.