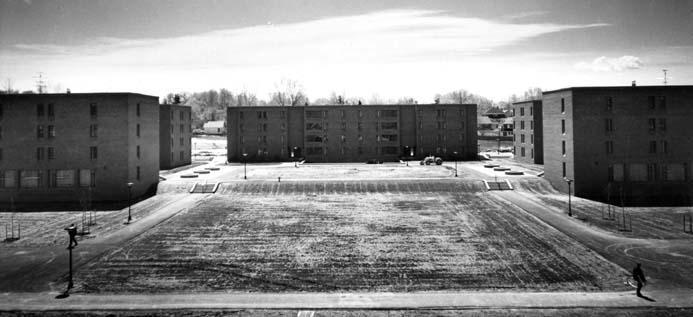 The Institute quickly constructed a new dormitory complex in the summer of 1953 to house a large incoming freshman class. Four residence halls housed 636 students and a common dining hall, completed in 1954, seated 500 people. Two additional residence halls, housing 271 students, were completed in 1958 and three more were added in 1968. Funding for the construction of the buildings was obtained through federal housing loans that were secured by bonds and repaid from rental income.
The residence halls were named for former faculty members who made significant contributions to Rensselaer:
Archie Wilmot Bray, Professor of Biology
Edward Richard Cary, Professor of Geodesy
Charles Winthrop Crockett, Professor of Mathematics
James Hall, Professor of Geology
Henry Bradford Nason, Professor of Chemistry
Samuel Edward Warren, Professor of Descriptive Geometry
Albert W. Davison, Professor of Chemical Engineering
Homer H. Nugent, Professor of English; and
H. Oakley Sharp, Professor of Civil Engineering.