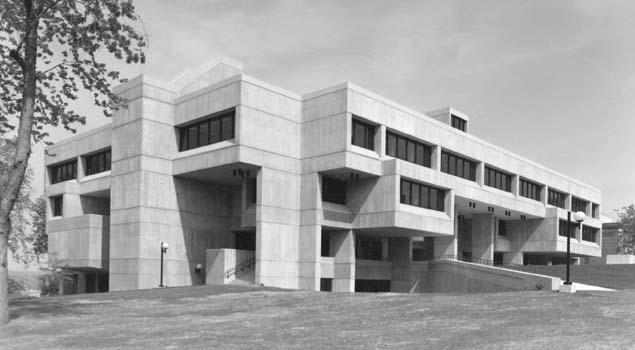 Plans for a new library building date back as far as 1953 when a proposed building was designed on the site of the current Rensselaer Union. The proposal was tabled because of the lack of funding and completely faded from view when St. Joseph 's chapel was renovated as a library in 1960. It quickly became apparent that the chapel space was not adequate for the expanding needs of a library. In 1967, the Faculty Library Advisory Committee (LAC) published the "Green Report" which made recommendations for a library with increased collections and improved services. The LAC recommended an expandable 110,000 sq. ft. building to house the recommended resources and services. Despite these recommendations and a projected space crunch, a new library building was not immediately considered by the administration.
Students pleaded their case for a new library in the "Requisites for a Technological University ," presented to President Folsom on February 25, 1970. The "Requisites" stated that "the library must be the first building constructed" and "construction of the library must begin as soon as possible." President Folsom responded that the "library will be given first priority" and that a Library Resources Committee (LRC), appointed in early February, would make detailed recommendations.
It was announced in December 1970 that Quinlivan, Pierik & Krause (Al Krause, Class of 1952) of Syracuse , NY would design the new building on the site of the former University Building . A more central site on the south side of the '86 Field, favored by the Librarian's committee, was also considered. Three proposals from the architects were recommended by the LRC: a separate 100,000 sq. ft. dedicated library building expandable to 200,000 sq. ft., an expandable 100,000 sq. ft. structure (partially occupied by the library) adjoined to the chapel, or an expandable 50,000 sq. ft. structure adjoined to the chapel. When it became apparent that the first proposal would not be put forward, "The Committee for a Fine New Library" was formed to organize support for the proposal and lobby the Board of Trustees.
After much discussion, debate and protest, the final decision was made in 1971 to build a 100,000 sq. ft. dedicated library building on the western edge of campus overlooking the city of Troy. The $6.9 million building would be connected to the chapel via an underground annex with a pedestrian plaza between the building entrances. A $2 million pledge from J. Erik Jonsson assured that the new library project would finally move forward. Jonsson requested that the library be named in honor of President Folsom who retired in June 1971.
Designs that included a "green roof" and triangular shape came and went. A final four story design, submitted in June 1972, included functional spaces recommended by the library planning committee and a concrete exterior that would harmonize with the light gray brick of the chapel. The Richard Gilman Folsom Library was dedicated on May 15, 1976.