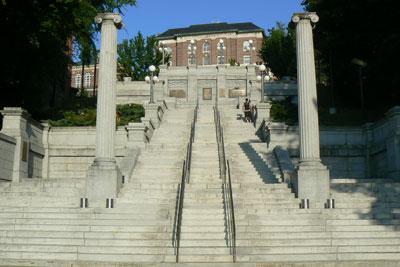 The Approach is a massive granite staircase between Rensselaer Polytechnic Institute and downtown Troy. It was completed in 1907 on the former site of Rensselaer's Main Building after the latter was destroyed by fire in 1904. 
The staircase was constructed by the City of Troy to emphasize the interdependence of this industrial city and the polytechnic school for which it is known. For many years the Approach remained an important link between the city and the college. As the city's fortunes gradually declined, the once elegant structure fell into disrepair, and by the 1970s the Approach was closed due to its precarious condition. 
In 1994, the Approach was given a new lease on life when the Louis and Hortense Rubin Foundation raised funds to rebuild the staircase. After extensive renovation and landscaping, the Approach was officially reopened in 1999.
For additional information, see The Approach online exhibit.