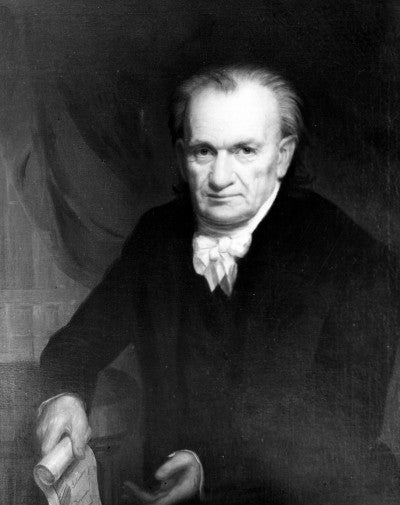 Amos Eaton, natural scientist, educator, and co-founder of the Rensselaer School, was born on May 17, 1776 in New Concord parish (now Chatham, Columbia County), New York. Eaton graduated from Williams College in 1799, and despite an interest in the natural sciences, undertook the more practical study of law in New York City. He was admitted to the state bar in 1802. From 1802 to 1810 he practiced law and worked as a land agent and surveyor in Catskill, New York.
In 1811 Eaton was imprisoned on charges of forgery in a land dispute. Although Eaton and many others always maintained his innocence he spent nearly five years in jail. During his incarceration he began a course of scientific studies and upon his release spent a year at Yale College studying science under Benjamin Silliman and Eli Ives. He then returned to Williams College in 1817 where he introduced a very successful course of scientific lectures and published A Botanical Dictionary and Manual of Botany for the Northern States.
In 1818 Eaton moved to the Troy-Albany area which had become a center of industrial and commercial growth. He spent the next six years as an itinerant lecturer, ranging from West Point, New York, to the Castleton Medical Academy in Vermont, and compiled textbooks in chemistry, zoology, and geology. Under Stephen Van Rensselaer's patronage he undertook geological and agricultural surveys of Albany and Rensselaer counties and across New York State along the proposed route of the Erie Canal. His published survey reports earned him recognition in American geology and the 1820's have been designated as the "Eatonian era."
Eaton's most significant and lasting contribution was to scientific education. He developed a teaching theory and methodology that focused on "the application of science to the common purposes of life." In contrast to the then current method of learning by rote, students were to learn by doing. Field trips were used to gather specimens, experiments were performed in laboratories, and students prepared and delivered lectures with the instructor and fellow students serving as critics.
To implement his novel ideas, Eaton enlisted the support of Stephen Van Rensselaer in founding the Rensselaer School in 1824. Eaton served as Senior Professor at Rensselaer for the rest of his life and trained a significant number of influential scientists, including James Hall, J.C. Booth, Asa Fitch, Ebenezer Emmons, G.H. Cook, Abram Sager, E.S. Carr, Douglass Houghton, and Eben Horsford.
In 1835 Eaton further developed his curriculum and gave it even more focus on practicality. The Rensselaer School was renamed Rensselaer Institute and was divided into separate departments of science and engineering. Eaton remained at the Institute until his death on May 10, 1842 at age 66.