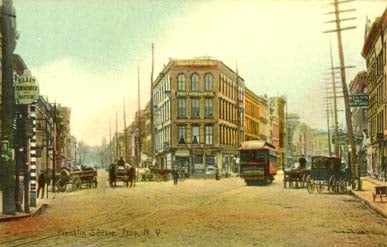 This bibliography highlights materials pertaining to local and regional history, including both published and unpublished items. This list is by no means exhaustive. The archives continues to collect local history information, and there are many items embedded in larger collections that would be impossible to include in a survey of this nature.
Anyone interested in additional research should contact Archives staff for further assistance. We have included links to the Published Works below for a brief description of the publication found in RenSearch, Folsom Library's online catalog.
Marcus L. Filley papers, 1822-1946 (MC 12).
Correspondence reflecting sales of stoves and stove parts manufactured in Rensselaer County. Also, personal correspondence of Filley family members.
Isadore M. Fixman collection, 1667-1969 (MC 2).
Personal, family, business and professional correspondence of early settlers in this region. Van Rensselaer family papers are the core of this collection. Also included are maps, photographs, legal documents and published materials.
Thomas Phelan papers, 1973-1996 (Mc 76).
Primarily student research reports on local history topics, including 19th century industry and labor, working and living conditions, architecture, prominent individuals, and a wide range of related subjects.
R.P.I. Undergraduate Thesis Collection, 1855-1910.
Reports and related drawings from student research projects. Topics include reviews of, and designs for, bridges, canals, waterworks, industrial machinery, and related engineering endeavors in the vicinity. Each thesis has been cataloged by title and author in the libraries' online catalog. Microfilm copies are available in both the archives reading room and the Folsom Library microfilm collection.
Warren Family papers, 1824-1909 (MC 14).
Personal and business correspondence relating to railroads and politics in upstate New York.
A Resourceful People: A Pictorial History of Rensselaer County, New York (Norfolk, VA, 1987). SCIT REF F127 R3 R46 1987
Anderson, George Baker. Landmarks of Rensselaer County New York (Syracuse, 1897). SCIT REF F127 R3 A5
Buel, David. Troy for Fifty Years (Troy, 1841). SCIT F129 T8 B9x
Charter of and Laws Relating to the City of Troy: As Amended at the Close of the Legislative Session of 1906 (Troy, 1906). SCIT JS1505 A15 1906
Documenting Change: Industry and Business in Troy and Rensselaer, NY, 1945 to the Present: A Resource Guide (Troy, 1996). SCIT REF HC 107 N72 R3x 1996
Foerster, Bernd. Architecture Worth Saving in Rensselaer County, New York (Troy, 1965). SCIT NA730.N4 F6
Goddard, Abba. The Trojan Sketch Book (Troy, 1846). SCIT PS549 T7 G6
Groft, Tammis Kane. Cast with Style: Nineteenth Century Cast-iron Stoves from the Albany Area (Albany, 1981). SCIT TH7435 G7x
Hartgen Archeological Associates, Inc. A View of the Past: Excavating the Lives of Troy's Working Class (Rensselaer, 2004). SCIT F129 T8 H27 2004
Hayner, Rutherford. Troy and Rensselaer County, New York: A History (New York & Chicago, 1925). SCIT F129 T8 H4, v. 1-3
Holley, Alexander Lyman. The Albany and Rensselaer Iron and Steel Works, Troy, New York (London, 1881). SCIT HD9519 A43 H65 1881
H.R. Page & Co. Troy Illustrated (Chicago, 1891). SCIT F129 T7 T7 (Outsize)
Industrial Resources Survey of Rensselaer County (Albany, 196-). SCIT HC107 N7 I5x
Lansingburgh Historical Society. Lansingburgh, New York, 1771-1971 (Lansingburgh, 1971). SCIT F129 L3 L3
Lilly, Robert J. The Wynants Kill: A Small Stream but Mighty (West Sand Lake, 2005). SCIT REF HD1694 N7 L5 2005
Moore, H. Irving. A Visit to Old Troy in Pictures and Prose (Troy, 1973). SCIT F129 T8 M6x
Moore, Robert I. A Comprehensive History of the Potable Water Supply in Troy, New York (Troy, 1991). SCIT TD225 T7x M6 1991
Old Established Jones & Co., Troy Bell Foundry (Ovid, 1984). SCIT CC206 J6x 04
Parker, Joseph. Looking Back: A History of Troy and Rensselaer County, 1925-1980 (Troy, 1982). SCIT REF F129 T8 P2x
Phelan, Thomas. The Hudson Mohawk Gateway: An Illustrated History (Northridge, CA, 1985). SCIT REF F127 H8 P55 1985
Rensselaer County 1791-1966; City of Troy 1816-1966 (1966). SCIT F127 R3 R4x
Rezneck, Samuel. Profiles Out of the Past of Troy, New York, Since 1789 (Troy, 1970). SCIT REF F 129 T8 R4
Sylvester, Nathaniel B. History of Rensselaer County, New York (Philadelphia, 1880). SCIT REF F127 R3 S9
The Troy Savings Bank's 150 Years (1823-1973) (Troy, 1973). SCIT HG 2613 T84 T73x
Troy (N.Y.). Dept. of Public Works. First Annual Report of the Commissioner of Public Works: To the Mayor of the City of Troy, For the Year 1900. SCIT TD25 T8 A4 1900
Troy (N.Y.) Parks Bureau. Report of the Municipal Improvements Commission. Bureau of Parks (Troy, 1903). SCIT F129 T7 R47 1903
Troy Quality of Life, 1976: Problems, Plans, Projections (Troy, 1976). SCIT REF HT168 T76 T76 1976
Vogel, Robert. A Report of the Mohawk-Hudson Area Survey (Washington, 1973). SCIT T22.5 T76 V63
Waite, John G. Industrial Archeology in Troy, Waterford, Cohoes, Green Island, and Watervliet ( Troy, 1973). SCIT T22.5 T8 W3x
Waite, John G. The Architecture of Lansingburgh, New York (Lansingburgh, 1976). SCIT REF NA 735 L36 W34
Weise, Arthur J. The City of Troy and its Vicinity (Troy, 1886). SCIT REF F129 T8 W4 (copy)
Weise, Arthur J. History of the City of Troy (Troy, 1876). SCIT F129 T8 W6
Weise, Arthur J. History of the Seventeen Towns of Rensselaer County (Troy, 1975). SCIT F127 R3 W4x 1975
Weise, Arthur J. History of Lansingburgh, N.Y., from the Year 1670 to 1877 (Troy, 1877). SCIT F129 L3 W6
Weise, Arthur J. Troy's One Hundred Years, 1789-1889 (Troy, 1891). SCIT F129 T8 W7
Woodworth, John. Reminiscences of Troy, From Its Settlement in 1790 to 1807 (Albany, 1860). SCIT REF F129 T8 W91
Young, David D., compiler. Troy at 200: A Catalog of Works Pertaining to the History of Our City (Troy, 1989). SCIT F129 T8 T7x